There seems to be minimal information about how to get across Kokillai Lagoon. (See Facebook comments for places to stay around Mullativu)

For those who are thinking of traveling by bus/bicycle/motorbike along the East coast of Sri Lanka from Mulativu - Trincomallee - Batticoloa -Arugam Bay, the lagoon at Pulmuddai/Kokilai should not be a deterrent, and no detour is necessary.
If you are traveling in vehicles larger than a tuk-tuk there is detour (42 km ).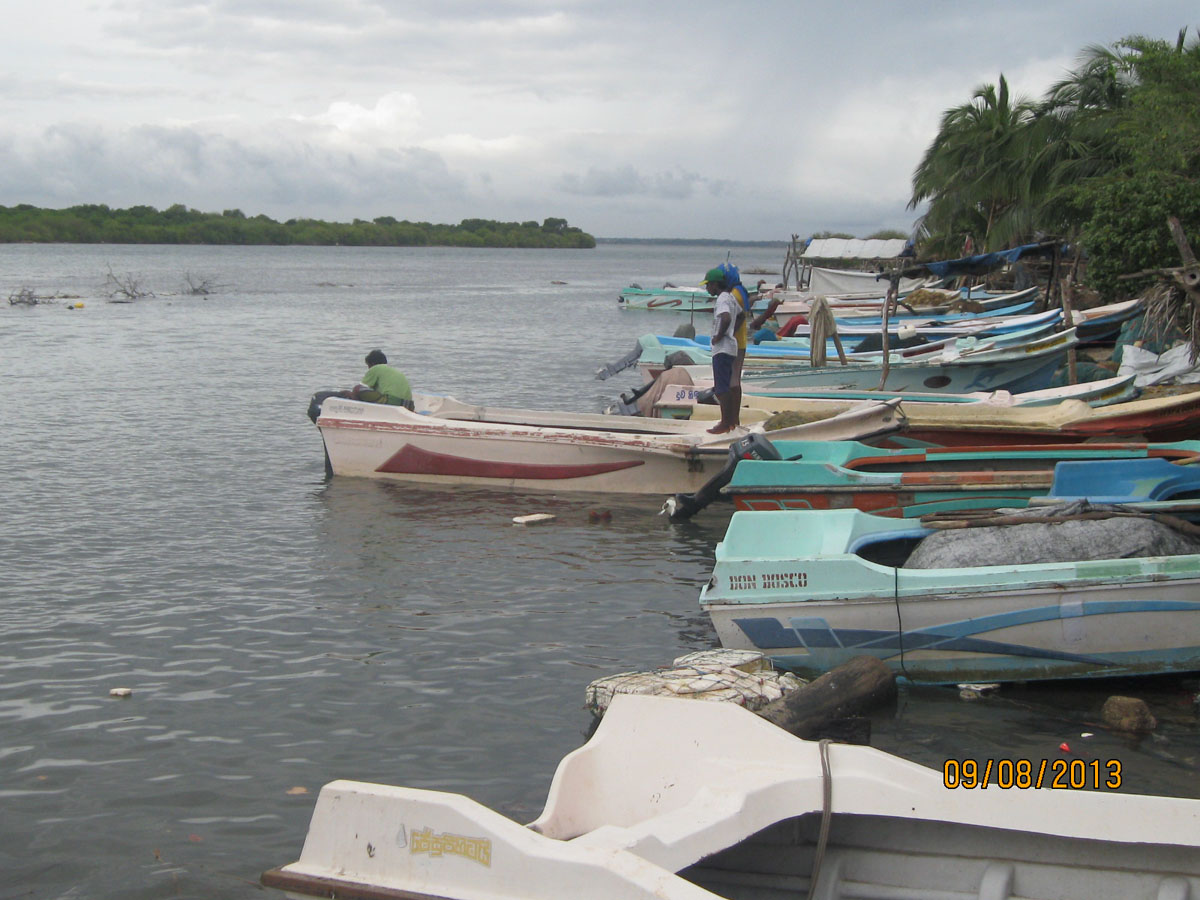 Kokilai Lagoon, Kokilai. The other side of the lagoon is Pulmoddai
Travelling by bus/bicycle/motorbike
Just get to the fishing village at either Pulmuddai or Kokilai and arrange with a fisher to take you across. Its about LKR 500 for a person, LKR 1000 or so for a small motor bike and some where in between for a cyclist. At times there is a boat that can take a tuk-tuk across the lagoon.

Detour when Travelling by large vehicle
If you are traveling in vehicles larger than a tuk-tuk there is detour (42 km ) around the Kokkilai Lagoon. It should be motorable even by a small car during the dry season. During the rainy season, as some sections of the road are gravel, small cars might not be able to go over potential mud holes.

Point form of directions first.
Kohombashandiya to Janakapura: 16 km
Janakapura to Signpost Junction 7.5 km (see photo)
Signpost Junction toT-Junction 1.2 km
T-Junction to Carpeted Road 3.0 km
Carpeted Road to B60 Pulmudai-Bogahawewa Road- 4.9 km
Carpet Road Junction to Pulmuddai Trinco Road Junction 9.4 km
Kohombashandiya to Janakapura: 16 km (Google Maps Link map by Steve Hoge)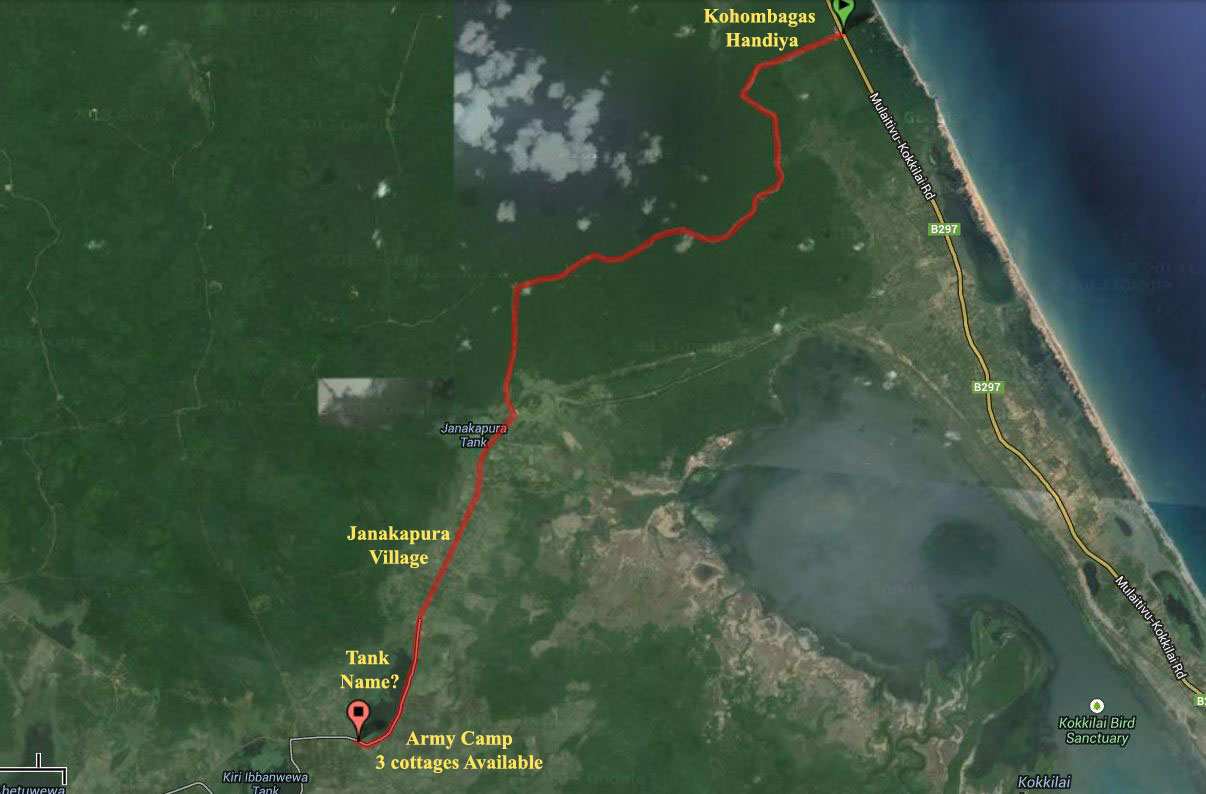 Kohombashandiya to Janakapura: 16 km

Kohombagas Handiya, has a couple of large Margosa trees, and large (for this area) snack bar canteen run by the army. The road from Kohombagas Handiya to Janakapura is through thick elephant territory jungle. This road was initially built by the LTTE as a supply route and as a road to approach and attack Padaviya, Weli-Oya (Google Padaviya, Weli-Oya LTTE for more).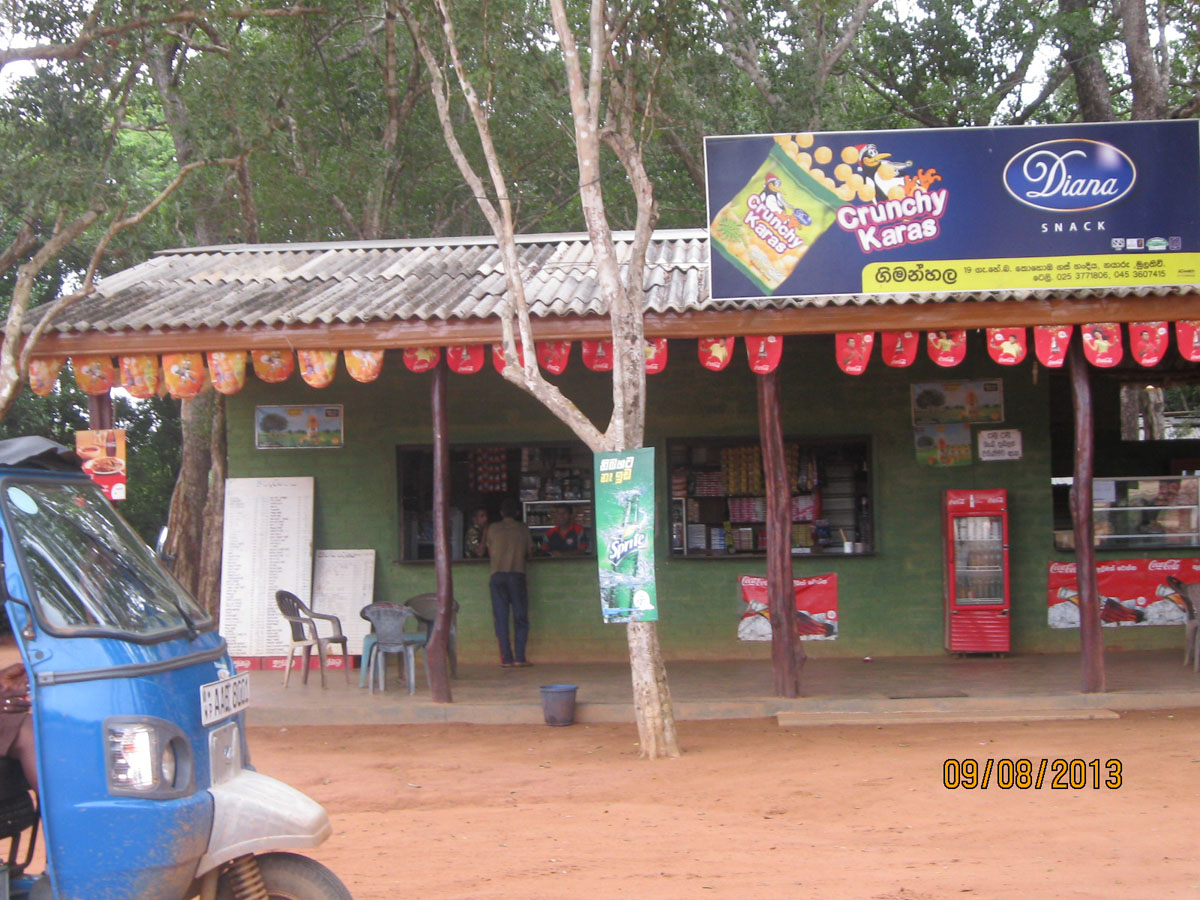 Kohombagas Handiya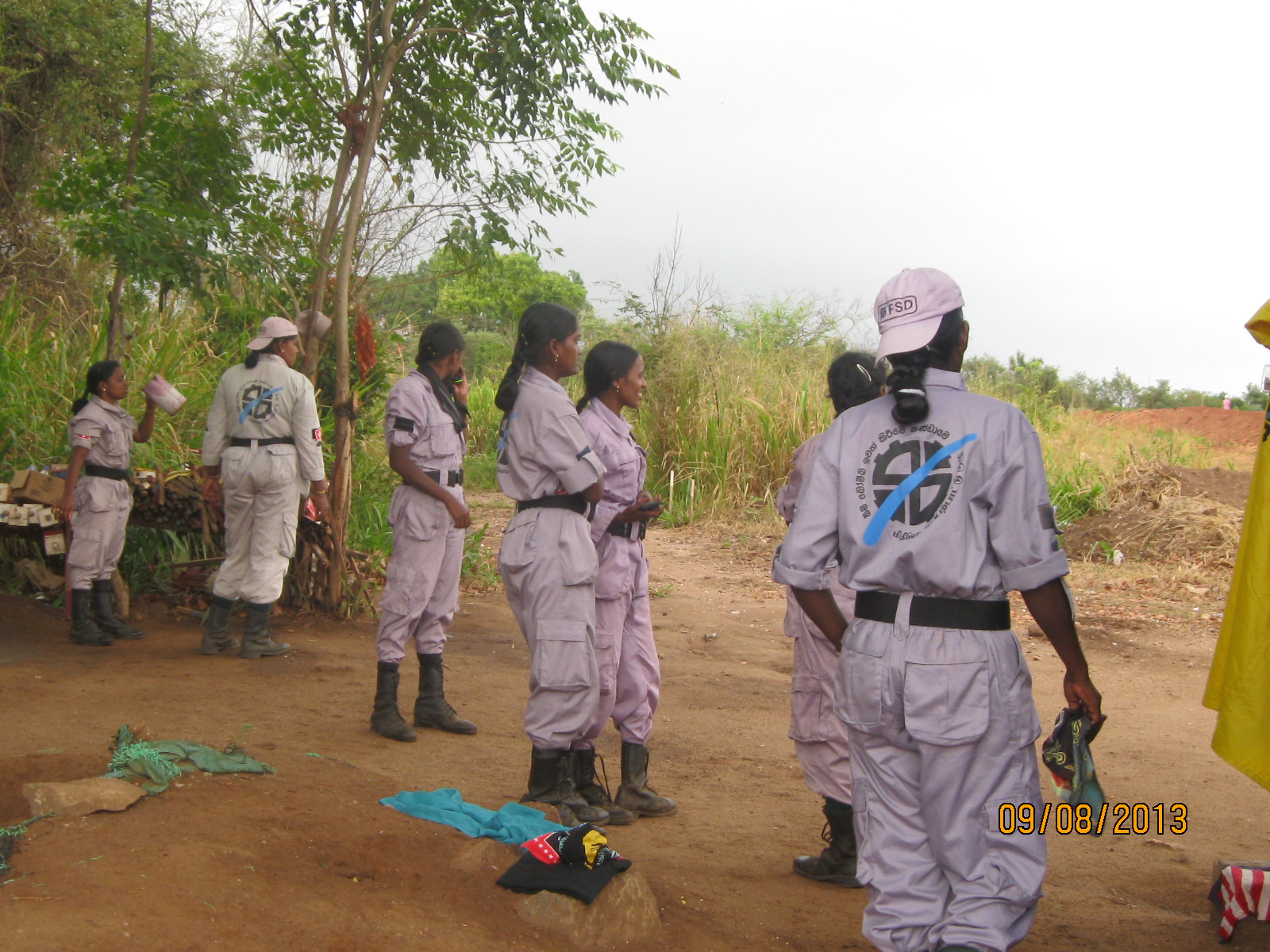 De Mining operations. It seemed they were all women, Tamils
and not happy about photos being taken

Janakapura is a is a small village/colony named after Major General Janaka Perera. The villager around this area have immense respect for him for ending LTTE attacks on in the area.

Once you pass Janakapura the road is over a tank (name anybody ?) . Both sides are a steep drop. At the end of the tank bund is the Janakapura Army camp. It has three cottages/chalets that are available for stay. At the Army camp make a right turn (to the south). It was a gravel road in Sept. 2013.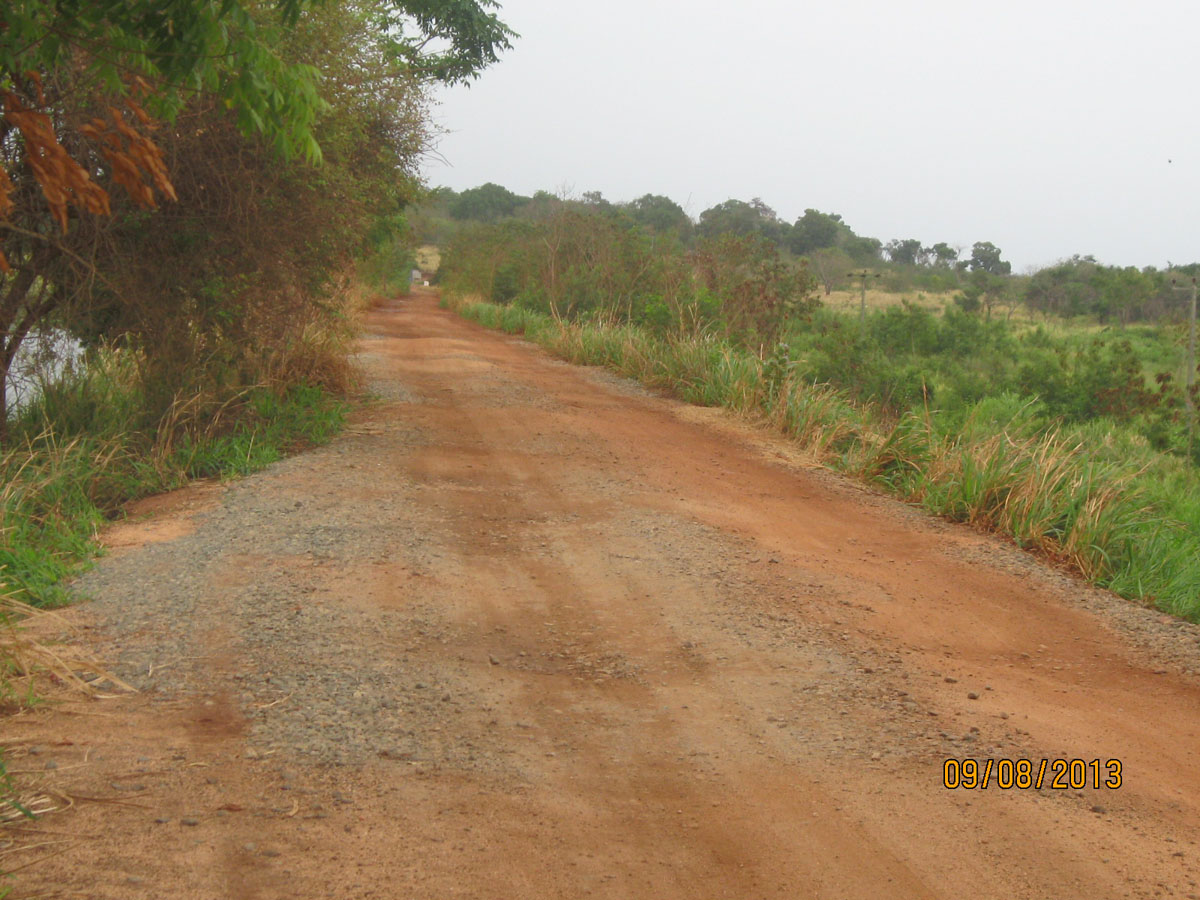 Road on Tank Bund near Janakapura
Tank Bund near Janakapura
Janakapura to Signpost Junction 7.5 km (see photo) (Google Map Link)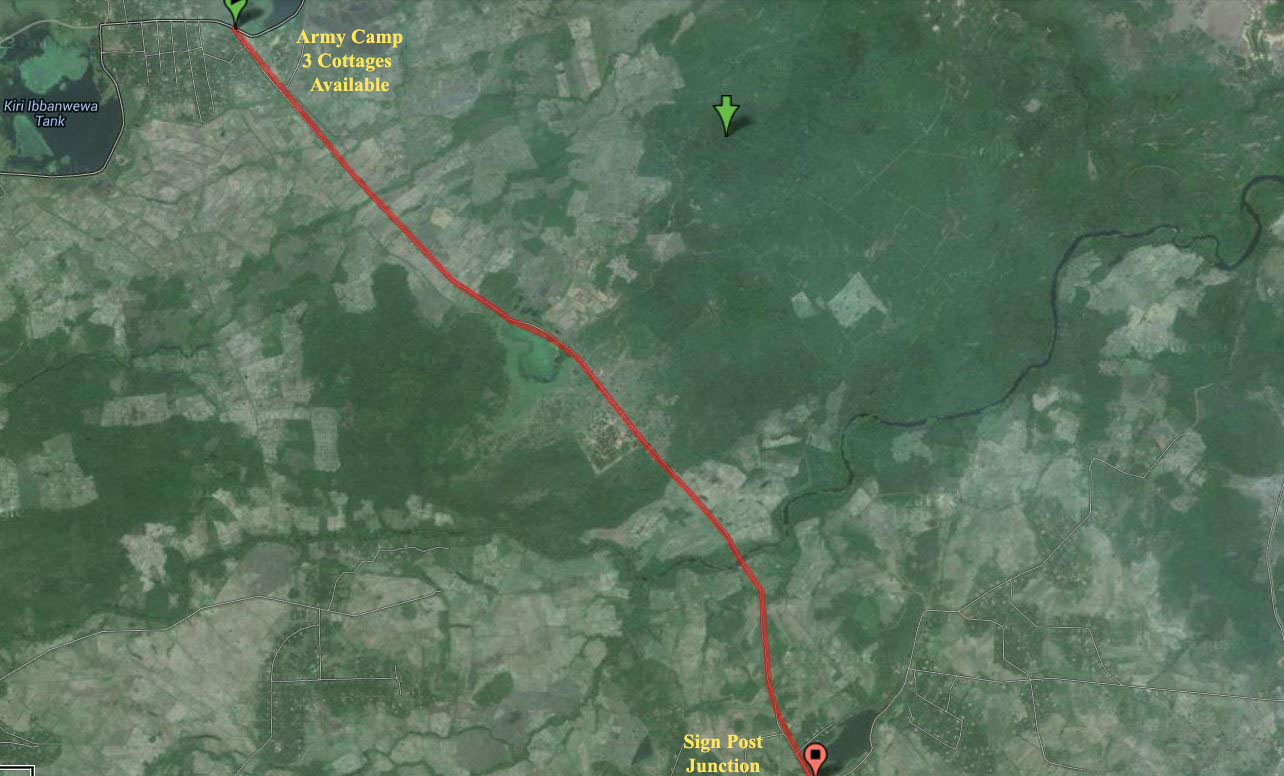 Janakapura to Signpost Junction 7.5 km (see photo)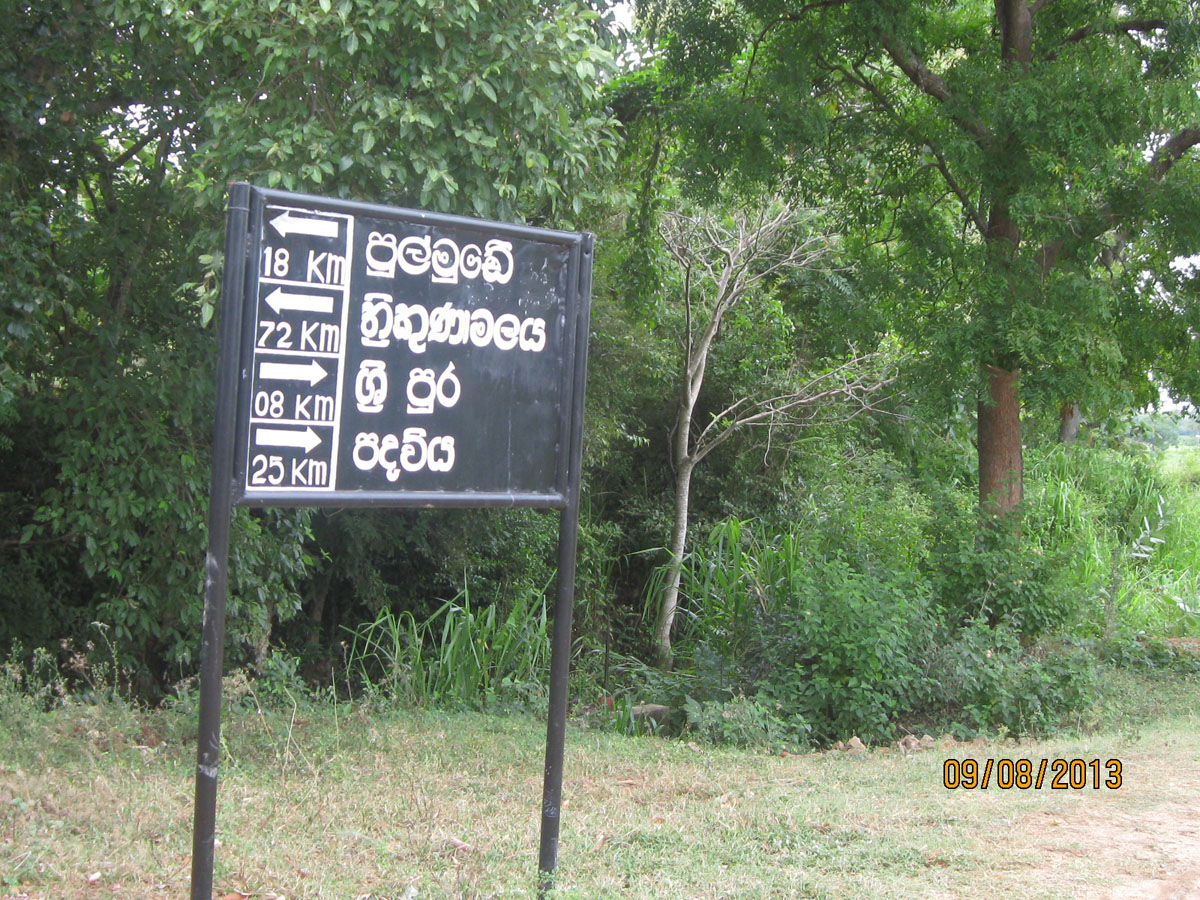 Signpost. 18 km East is Pulmoddai


This section of the road is mainly gravel, initially passing through paddy area and then grass and shrub area, probably a flood plain of the Ma Oya. This section of the road is probably questionable for a small car during the rainy season. The road ends at a T-Junction. To the East is Pulmuddai and West to Sri Pura and Padaviya.

Signpost Junction toT-Junction 1.2 km
This section of the road has quite a few houses and part of has concrete. You will be pass a small tank to the North (left) of the road. At the first intersection (a T), make a right turn (East). Believe it or not you get traffic police on this road. I got a ticket for not having a license to drive a tuk-tuk.

T-Junction to Carpted Road 3.0 km (Google Map Link map by Steve Hoge)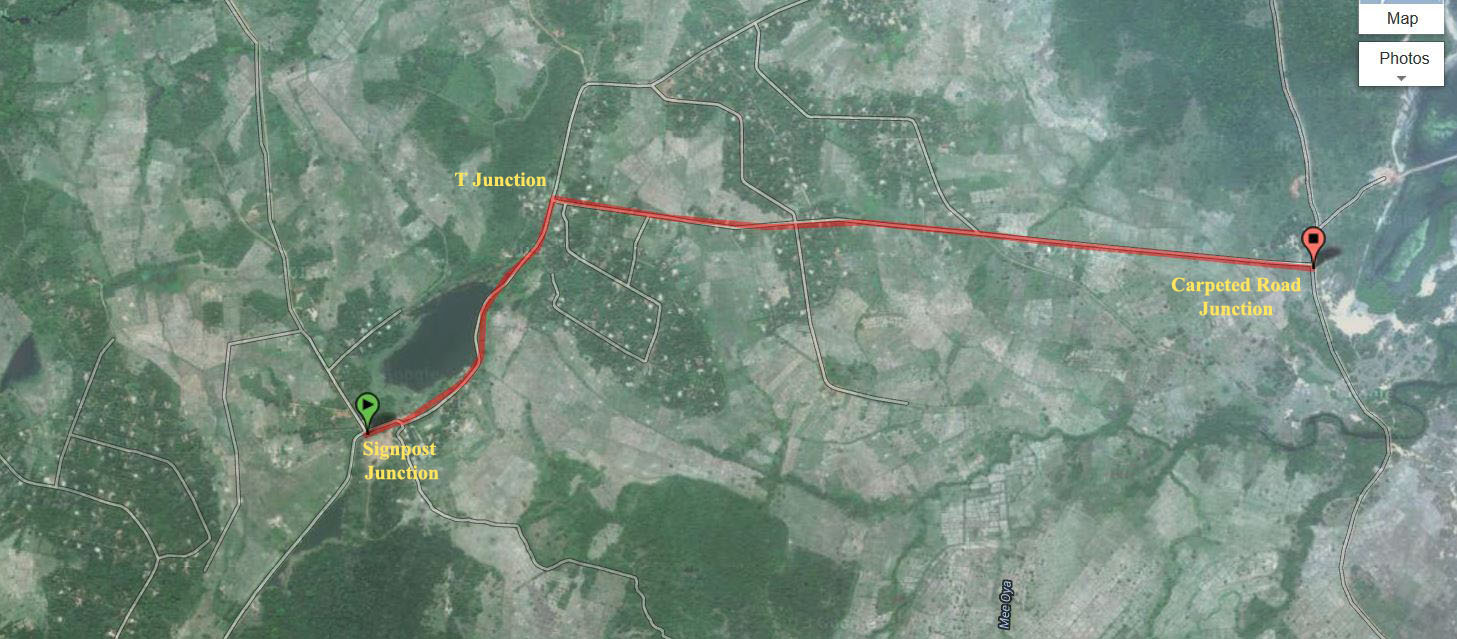 T-Junction to Carpted Road 3.0 km

The road has houses at the beginning and gives way to scrub jungle. The road ends again at a T with the south going to B60 the Pulmuddai-Bogahawewa road.

Carpeted Road to B60 Pulmudai-Bogahawewa Road- 4.9 km (Google Map Link map by Steve Hoge)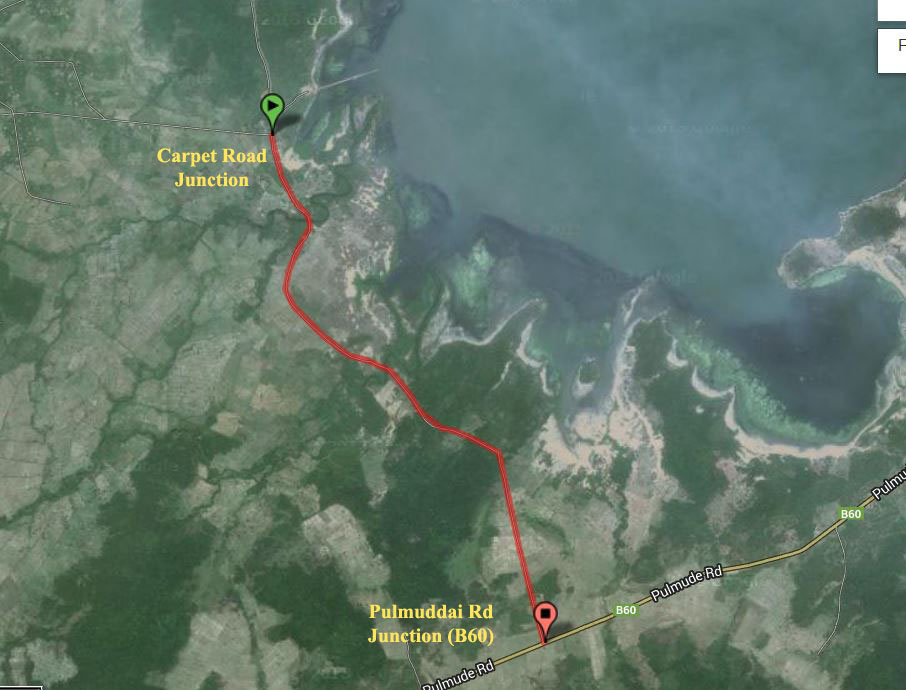 Carpeted Road to B60 Pulmudai-Bogahawewa Road-

The road is wide, again through semi scrub jungle. 60% of the road was carpeted, and the rest was in the process of being carpeted. At B60 the Pulmudai-Bogahawewa Road turn East.

Carpet Road Junction to Pulmuddai Trinco Road Junction 9.4 km
East is to Pulmuddai, At Pulmuddai turn South to head to Trincomalee. Continue East (a few meters) and turn North to see mineral sand (ilmenite rutile deposits) . Ilmenite is a major source of Titanium Oxide, used as a base pigment in paint, paper, plastics and to lighten cement for cut/polished cement now very popular in Sri Lanka.

More on Ilmenite, Rutile
Sri Lanka's Black Gold: The Mineral Sands of Pulmuddai